Do you know how much it costs your company every time a frontline employee leaves?
This cost increases with the level of training needed for the position. Turnover costs vary between companies, but the total is usually a substantial amount of out-of-pocket costs, not to mention the disruption caused by frequent changes in staffing.
Resulting from a worker's reduced productivity and disruption in the workplace.
Related to overtime or extra shifts required to cover a vacant position, as well as the potential loss of revenue from a shortage of employees.
Including advertising and agency fees, along with costs of reference and background checks, drug screenings and incremental internal administration.
Comprising the costs of orientation, formal training, supervision during orientation and ramp-up, and lower initial productivity.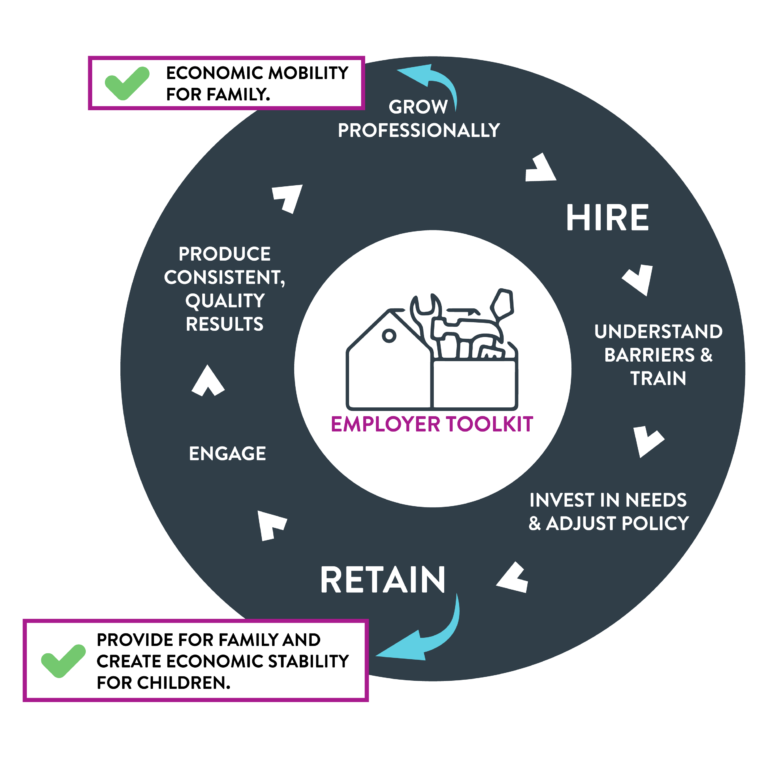 Turnover costs my company money, but so does implementing new workplace policies.
What is my potential Return on Investment?
There are costs associated with both rapid turnover and new workplace policies. However, many workplaces are currently stuck in a vicious cycle of hiring, absenteeism and turnover.
Imagine if workplaces were a virtuous cycle, where we hire employees, understand and invest in their needs, retain them and help them grow professionally. In this cycle, we create a workplace that is more stable and drives results for the company. Additionally, this positively affects other community priorities like poverty reduction, health outcomes and housing stability.
Once you implement workplace policies focused on the needs of your lower-wage workforce, you will experience a return on investment through decreased turnover costs and increased human resource and supervisor time, as well as in employee retention, engagement, attendance, customer satisfaction and performance results.